Hunting Southeast Alaska Bear with Muskeg Excursions
Don't forget to go to my Hunt Reports link for lots of picture pages of Bear hunts …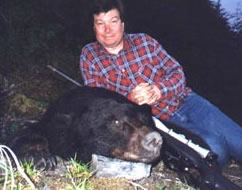 Black Bear Hunt
Southern Southeast is widely recognized in Alaska for its abundant and trophy-sized black bears. Boone & Crockett, Pope & Young, and Safari Club record books list many bears from this area.
Prince of Wales Island has produced more trophy-quality black bears than any other small geographic area in Alaska or elsewhere in the US or Canada. Prince of Wales Island has only black bear while on the Southeast Alaska mainland, black bear and brown bear share in the same territory. The mainland also has the Cinnamon phase black bear as well as the rare Glacier (blue) black bear.
This coastal rainforest gets between 120 and 200 inches of precipitation per year. The coastal islands are covered with spruce/hemlock/cedar forest, with miles of rocky beaches and many bays, tidal flats and rivers while the mainland's geography is made up of beautiful fjords, low alps, glaciers and fewer larger rivers.
Muskeg Excursions' bear hunts are fair chase, spot and stalk or ambush style type hunting. We hunt the beaches, tidal flats, estuaries and the uplands.
Spring bear hunts on Prince of Wales are conducted out of our cabin at Hollis or from a remote beach tent camp. Travel to Hollis can be by daily ferry service or scheduled air service. We use small boats to access the coastal areas, and a auto to access the uplands. Part of my guide use area is connected to the logging road system.
The weather this time of year is commonly wet and mild. The bugs usually are not a factor.
My Prince of Wales Island Guide Use Area is over 1000 square miles and some of it is very remote and gets very little hunting pressure. A black bear in the 7 plus foot range that will score Boone & Crockett is very possible on the Island.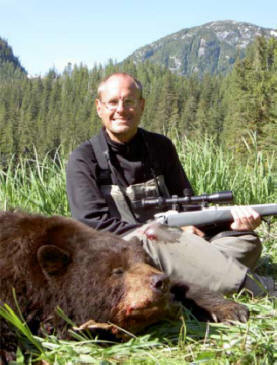 Over on the mainland our bear hunt takes place along the beaches of the many saltwater inlets and bays. We use small boats to access the beaches, tidal flats, estuaries, and occasionally hunt the uplands. This is a very remote and rarely hunted area. These hunts are conducted out of remote beach tent camps reached by air charter or charter vessel out of Ketchikan.
A deluxe vessel based hunt can be arranged.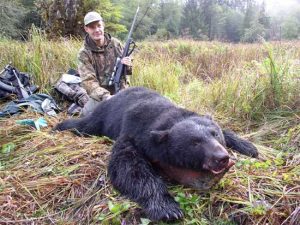 September first opens the fall black bear season. From that time through early October we conduct Black Bear hunts or combination Black Bear / Sitka Black-tailed Deer hunts. The bears are fishing at this time and we hunt them on the lowland creeks and rivers. This is a very exciting up close and personal spot and stalk type hunt. This hunt is based out of the Hollis cabin and sometimes hunting from an alpine or beach tent camp.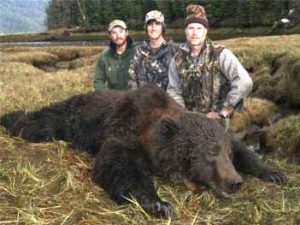 Brown Bear
In April 2001 the USFS implemented a strict brown bear quota system for SE Alaska guides. Under that quota Muskeg Excursions is allowed 3 brown bear hunters per year. We conduct Brown Bear hunts over in our mainland Misty Fjords Guide Use Area. We have spring or fall hunting to offer. We conduct these hunts in several ways. Based from a tent beach camp and an upland backpack tent camp type hunt.
Any combination of Black Bear / Sitka black-tail / Mt goat / Brown Bear hunts can possibly be arranged.