Fall 2004
Continued
Hunt #4
While Bobby, Randy and Steve were hunting out of the cabin, I was hunting with Jason, who came out from WI to hunt for a Black Bear. Jason, his father John and mother Judy were staying at the Fireweed Lodge in Klawock. Jason is a hunter with the disability of Cerebral Palsy. He has done lots of hunts and his mother and father accompany him to help in the field. Jason is a real trooper and has a lot of drive even though it is hard for him to walk well and his vision is very poor. After hunting for a few days we were able to get Jason down on a river bed and got in position for the late evening hunt. Soon a nice boar walked into view (at about 40 yards). Jason's shot was true.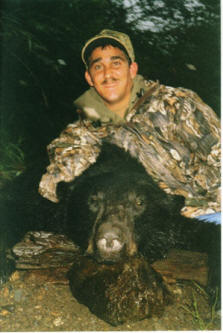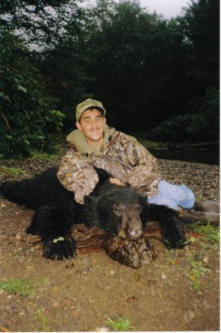 Then Jason hunted a few more days to try to fill a deer tag with no luck. While he and his mom went over to Ketchikan for some town fun John stayed and hunted Bear. He connected on a nice 6 foot sow.
Hunt #5
Next up was Mike. He came up from FL where the hurricanes were raging. Mike came back after not connecting on a Mt Goat last fall. He took a dandy this fall.
It's official B&C score of 50 will place it in the all-time book.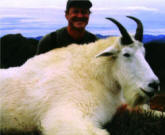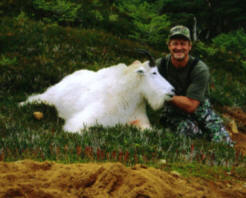 Mike and Bobby came over to the Hollis cabin to help with Dwayne and Joey's Black Bear hunt.
Hunt #6
And Dwayne took the jumbo Black on the late evening of September 15th. The big Black was over 7 feet in length and green scored 20 12/16 green.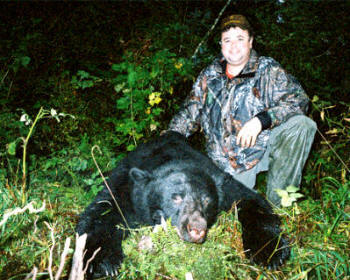 Joey didn't connect on his 16th birthday but did a couple days later while hunting with Bobby. He was very happy with this 6 1/2 foot birthday Bear.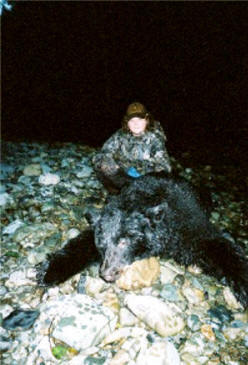 Hunt #7
Then it was back to Ketchikan to meet Jason who came up from WA to get after a Goat. Jeff of Carlin Air got Jason and Bobby into the Goat lake in some bad weather. We are very careful and Jeff is well seasoned and one of Ketchikan senior pilots. It wasn't long (as in the first hunt day) when the Bobby called in on the sat phone with the Goat down report.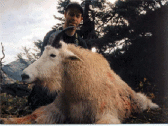 Back over to the Hollis cabin and a few days of fishing and deer hunting until Jason heard a Wyoming deer calling his name.
Hunt #8
A few days later Glenn from AZ arrived on his second Goat hunt with us. Once again Jeff pulled his magic and Glenn and Bobby was climbing around in the Goat rocks.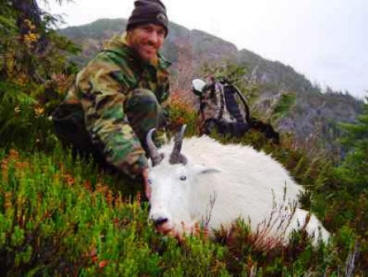 One very nice Mt Goat.
And one very busy fall for Muskeg Excursions. We took 4 Sitka Deer; 4 Black Bear (one will score B&C) and 4 Mt Goats (one might score P&Y & one -maybe two- B&C)