Fall 2004
Hunt #1:
Jeff was the first hunter in line for the Fall season. He arrived in Ketchikan on the afternoon of August 12th. At about 4 pm the next day Jeff and Guide Bobby Warren flew out to the Goat lake. My daughter Sarah and I had already been to the lake and had the low camp set up for them. Soon they were repacked and heading up to camp two. We had been having some hot weather and there were no Goats spotted on the flight in or on the way up to camp two. Early the next morning they were on top, with the plan to just look around and make a plan for the hunt. Soon Goats started to move and show themselves. After several blown opportunities it was time to head back down to camp. As they hiked back they noticed a nice Billy bedded down below them aways. Soon the stalk was underway and Jeff found himself at about 15 yards from the bedded Goat. His woody found the mark but the Goat jumped up and ran down the mountain. They found the Billy after several hours of blood trailing. It was very late and they decided to just to comeback and get the Goat in the morning. The next evening after 13 or so hours of very hard work they were back at camp two, wore out and happy.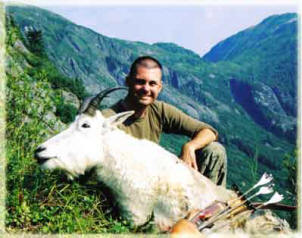 The afternoon of the 17th found us all on the ferry heading to the Hollis Cabin on Prince of Wales Island. There we worked up Jeff's Goat meat and got it in the freezer. August 19th found Bobby and Jeff backpacking again. This time up for a try at a Sitka Blacktail. Late the next afternoon Jeff was stalking again. Once again his shot was true.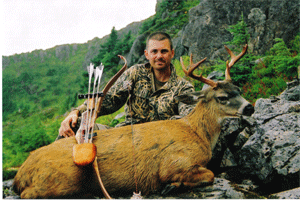 Jeff had a great hunt.
Hunt #2
Next up was Jason and Jared who have been on their own self guided hunting and fishing trip to Prince of Wales Island. They have had a hard time connecting on a nice Sitka Blacktail. They arrived on schedule by ferry on the August 26th. The next morning we (Bobby, Jason, Jared and I) were on our way to the mountain top tent camp. Jason took a nice buck the next morning. The next day Jared lowered the hammer on a nice buck. And later in the afternoon after we helped Jared and Bobby, Jason and I continued across the mountain. Jason took another nice buck late in the evening as we were on our way back. What a great 4 days up on top of the mountain. We spotted lots of deer and we stopped counting bucks at about 50 (sighted). After the hunt Jason and Jared hooked up with some family members and continued their adventure based out of a USES cabin. Planning on doing some fishing and some Bear hunting.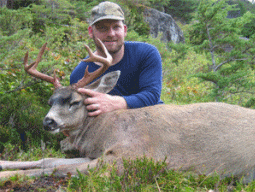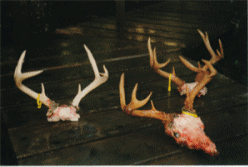 Hunt #3
Steve and Randy came up from Kansas to hunt with Bobby for a nice Black bear. Steve and Bobby have become good friends since Bobby guided Steve, last fall, on an unsuccessful late season Mt Goat hunt out of Cape Ommaney Lodge for Jim Boyce. The plan was for Randy to hunt with a Bow being backed up by Steve and one of his handgun cannons. Heavy rains and high water made for difficult bow hunting. They got several stalks, passed on some smaller bears and did not connect on the 7 footer they were after. Davey Hughes (swazi apparel of new zealand) stopped over to the Hollis cabin on his way up north for a Sheep hunt. We all had a great visit. Randy had a little mobility problem with a reoccurring knee injury. After the hunt he headed south to hunt Elk on his way home. Steve headed north for a Sheep hunt also. Then on his way back to Kansas stopped by Cape Ommaney lodge and hunted a Mt Goat with Bobby. He took a nice Billy. Steve will return this fall for a Mt Goat hunt / Black Bear / Sitka Blacktail combo.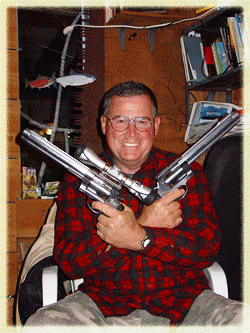 Steve and his back up arsenal.
Brian Linville (who has been breaking in as a Guide) came out before Steve and Randy's hunt to do the camp chores and the cooking. Brian couldn't help much on the hunt as he was recuperating from his Pro-Lumberjack competition accident. He is a world champion speed climber and was hurt (back compression fracture) at the ESPN Outdoor Games.
Any way ..... Brian's cooken was great. And he was able to get in some good fishing.