The Sitka Blacktail season opens August 16th on Prince of Wales Island. For non-Island residents.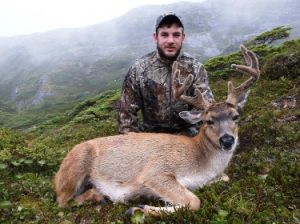 Stephen from Anchorage hunted with us a few years ago during the rut. He has decided to come on down to the Island and do some August mountain tent camp Deer hunting.
We are looking forward to the beginning of the fall hunting seasons …. Sitka Blacktail, Black Bear, Mt Goat, Saltwater Fishing, Crabbing & Coho Salmon stream fishing ….
Here are a couple of pictures of some Sitka Blacktail we have taken during the August hunt in recent years ….