Late January 2003 ....... Day Three ***** Day One ***** Day Two
Ron woke us up early once more. Darrell's coffee was good again with a quick bowl of oatmeal. Fred stayed in and made a lazy morning out of it.

We headed out the mainline to the north again but instead of dropping down into the canyon we headed up higher on the mountain. There was a cloud cover and it looked a little like rain. It was cool. There was lots of snow still on the upper north side of the mountaintops. Easing down the road Darrell spotted a group of 20+ above us on the oak ridgtop. They made us and headed up and over. No shot. We checked a large open meadow with no luck. We drove on a little further. There down below the road was a nice Boar. Standing under a big oak. We eased out of the rig and I sat down next to the fence line. Took a rest on the barb wire and steel post. Got a nice site picture in my scope and touched one off at the Hog about 75 steep yards below. When I recovered from the 338 recoil it was gone. My spotters called it a miss! The big Boar raised its hackle up at the shot and bolted down and away. Soon down the ridge there is a stampede. A large 30+ group of Hogs were down below, unnoticed by us, and were moving out of there. I picked a big one out as they crossed broadside over 200 yards down the ridge. The 338 spoke again. Hog down. It's getting up. I quickly got on it again and lowered the hammer. It disappeared back the way they came. Darrell, Tod and I worked our way down the ridge as Ron traveled the roads back and got the rig to the lower canyon road. Knowing the Tejon road system well is a definite advantage for removal also. We spotted blood. Not far sidehill was a jumbo Sow. Darrell pulled out his handy small length of rope with a handle on it. One loop end is hooked around the snout and teeth. Makes dragging downhill easier. After some dragging we were on a road and along came Ron. After the photo session and gutting we were on our way back to the Camp. And it wasn't even 8 am yet!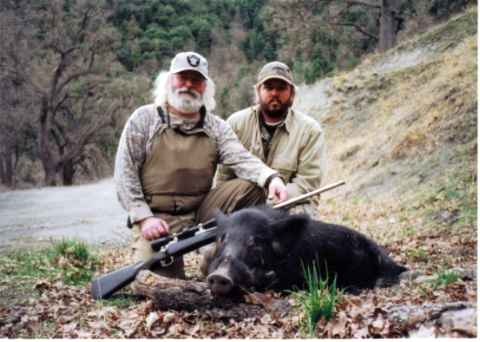 Soon the skinning was done. We had our gear packed and loaded. Ron and Darrell quartered the 3 little Piggys and we loaded the meat into the totes. It had been plenty cool enough to leave the Hogs outside hanging to cool down.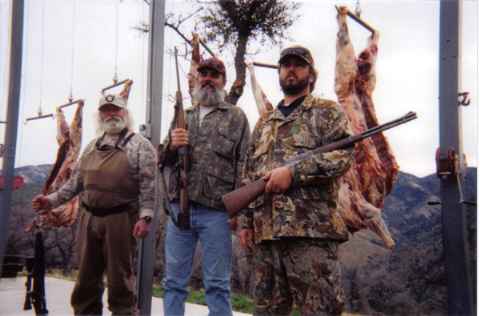 We said our goodbuys to Darrell and Ron and were on our way down the winding mountain road to the green valley bottoms and Almond orchards. We made the drive slow seeing some Golden Eagles along the road. We took in the scenery and talked of a great hunt. It didn't take long before we were at the truck stop on the I-5 buying bags of ice to pack around the hog meat. We stopped at the old Fort Tejon Park and at the Tejon Ranch office getting some hats and tee shirts from Sandy. The traffic picked up as we dropped down the Grapevine toward the mass of humanity.

After unloading some gear at my son Tod's house in Santa Clarita we headed over to Simi to the Green Acres butcher shop. The guy at Green Acres was very professional checking in our quartered Hogs and taking our order for what we wanted made.
It was a great hunt. It was great to be there with close family friend Fred (who has some disability with MS) on his first big game kill. It was especially great to be with my son Tod on his first big game kill. It was my second Hog hunt and I'm sure there will be more.