Preparing for Your Southeast Alaska Adventure with Muskeg Excursions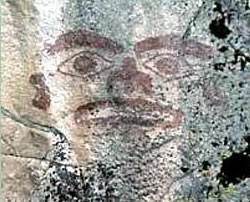 Whether you want to fly into a remote bay in the Misty Fjords Wilderness Area and photograph a Brown Bear, take a trail hike from the Ketchikan road system, fly fish one of the many streams on Prince of Wales Island or hunt for the trophy of your dreams, your adventure starts with Muskeg Excursions. We offer guided adventures in Southern Southeast Alaska on Prince of Wales Island, in the Misty Fjords Wilderness area (including Hyder, Alaska) and in the Ketchikan area …..fishing, canoeing, backpacking, wildlife viewing, sight-seeing and big game hunting.
This pre-historic Tlingit Indian rock pictograph is a
reminder of an ancient Northwest way of life.
Southeast Alaska is noted for its abundant wildlife, scenic beauty, excellent fishing and trophy-quality big game animals.

Customized and negotiated packages to meet your needs.
Company Policy
A 50% deposit is required to confirm desired dates with the balance due upon arrival. No refunds of deposits. A negotiated portion can be applied to a future hunt.

We have a reference list, for your activity, upon request. Equipment list is provided and help with travel plans upon booking.
Muskeg Excursions is insured, licensed and is a permittee of the Tongass National Forest and is an equal opportunity service provider.
Fishing Adventures
Dolly Varden start in the creeks around mid June. Sockeye Salmon start around the first of July. Then it's Pink and Chum Salmon in late July. Silver salmon run in late August through September. Natural Cutthroat Trout are in the rivers, creeks and lakes also. Crab, shrimp and saltwater bottomfish fishing is second to none.
Yes....the fishing IS good here!
Deluxe lodge accommodations, the Hollis Cabin or remote tent camps are used for these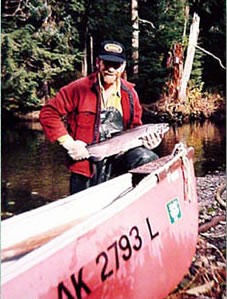 packages.

If it's fly or spincast fishing, Muskeg Excursions, with your input, can put together a package that will be a true adventure.
A Coho salmon on the Harris River
Canoeing Adventures
Canoe and portage such pristine areas as the Sarkar Lakes, recognized as a prime temperate rain-forest drainage system, renowned for its wildlife. Glide along in the Southeast Alaska rainforest through a chain of six lakes. Catch a glimpse at a wolf as a chorus breaks out in the surrounding muskegs. Watch as a black bear catches his pink salmon supper. Get up close and personal with Sitka black-tailed deer, eagles, loons, otter, beaver, waterfowl and many species of birds. Fly or spincast fishing for cutthroat trout is excellent. Actually there are three different types of these extensive lake, stream and river systems (of varying degrees of difficulty) to explore during June, July or early August.
Big Game Hunting
Muskeg Excursions offers high-quality guided Brown Bear, Black Bear, Mountain Goat and Sitka Black-tail hunting adventures. We hunt southern Prince of Wales Island for Black Bear and Sitka Black-tailed Deer and the south end of the Misty Fjords National Monument and Wilderness Area for Brown Bear, Black Bear and Mountain Goat.
Glassing for game on
Prince of Wales island
Our package includes guide; packer/camp-help/cook (when needed); meals & lodging in the field; transportation during the hunt, and skinning, fleshing, meat & trophy preparations for shipping.

The package does not include licenses; tags; meat & trophy shipping costs; travel expenses; hotel lodging & meals before, during or after the hunt (while in town); alcoholic beverage; or gratuities.
It rains in a rainforest !
Being prepared for RAIN physically and mentally is very important. Southern Southeast Alaska gets between 120 and 200 inches of precipitation per year. Ketchikan received about 196 inches during 2005. The average summer temperatures vary from 45 to 70 degrees. Spring and Fall temperatures are usually between 35 and 50 degrees.

We can help you select the proper personal gear required to keep you comfortable while on your Alaska Adventure with Muskeg Excursions.
Call or write today!
In our website, we can only generally cover the basics. If you are interested in the service we provide, we urge you to call or contact us today!