About Your Guide
State of Alaska Registered Guide / Outfitter License # 861
This State of Alaska License allows Johnnie Laird dba as Muskeg Excursions to conduct fully guided, outfitted and transported hunts in Big Game Units #1 & #2 ... Guide Use Areas 01-11; 02-01 & 02-02.
US Coast Guard License # 1044949
Johnnie Laird has been an outdoorsman almost since birth. His father retired from the US Air Force and was an avid hunter and fisherman; he instilled hunting and fishing ethics starting at an early age.
Johnnie Laird with a large Prince of Wales buck
Some of Johnnie's relatives moved from Oklahoma to California for the many opportunities and settled in the Sierra foothills east of Sacramento in the early '40's. Much of Johnnie's youth was spent hiking, camping, hunting and fishing in the Sierra Nevada Mountains as well as the country and hills surrounding his home in Fairfield located between San Francisco and Sacramento. As a youth, Johnnie attained the rank of Eagle Scout.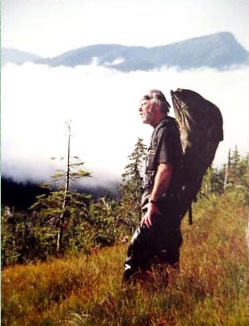 He started working in the timber industry in California in 1968 and southeast Alaska in 1974. He has hunted big game in California, Oregon, Arizona and Alaska. Johnnie has hunted and fished the Southern Southeast Alaska area extensively and established a fur and bear fleshing / expediting service and freshwater guiding business in 1982.
Johnnie working his way down
the mountain through a muskeg
He received his license as an assistant hunting guide in 1988 and obtained a US Coast Guard Master (25 tons) License in 1994. Muskeg Excursions went into the big game hunting business full time in 1995. Muskeg Excursions works under a Priority Use Permit on the Tongass National Forest, Craig and Misty Fjords Ranger Districts.


Here is Johnnie getting his first 'hunting safety course' from Aunt Lois in Oklahoma.