Late January 2003 ....... Day One ***** Day Two ***** Day Three
After the family reunion was winding down my son Tod, friend Fred and I started making our final plans for the trip to Tejon Ranch. We had been planning this Hog hunt since last fall.

I flew down to the Burbank airport from Ketchikan last Wednesday. After not putting on long johns almost every morning since September, the So Cal heat and pollution was pounding me. One day the TV weather lady even said it will be a "cool 70" today. Well, when it gets 70 in Ketchikan it's about heat stroke time!!!

Fred had just recently gotten a new pick up truck, so he was driving. He showed up about mid morning and we promptly loaded up. After checking around for a couple Styrofoam coolers (which I was told were only carried in 'summer' time) we headed north on the I-5. We took the exit into Castaic for a great sub sandwich and a look for coolers at the bait / convenience / gas stop. Just small coolers here. Back on the I-5 and north. As we passed Pyramid, Tod and Fred talked of many good fishing trips down in the lake. Next stop was Frazier Park in our search for something to haul our Hog meat (if we were successful) back to town in. There was a great hardware store in the little picturesque town and we picked up a couple of plastic totes. Back on the I-5 and northbound it was. The weather started to cool rapidly as there was heavy fog hanging in the San Joaquin.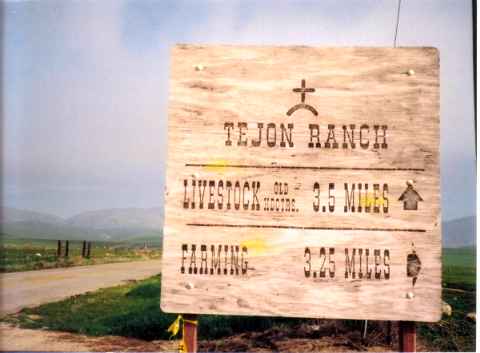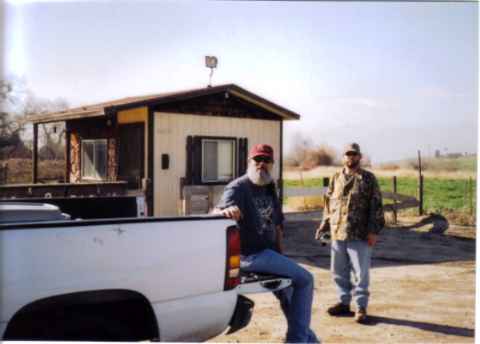 We pulled up to the gate at the Tejon Ranch where we were to meet our guide a little before our scheduled 2 pm meeting time. Soon we were shaking hands with Larry and talking Hog hunting. We followed as he lead us across green lowland foothills and up a winding road into the Tehachapi Mountains. After several miles we came to the Hunting Camp located on a ridge overlooking Bakersfield and the San Joaquin. What a view it was. After Larry introduced us to Ron and Darrell, the other guides, we unloaded our gear and got ready for an evening hunt. Fred would hunt with Larry and Tod and I would go out with Ron. Darrell needed to head to the office and would go over the top and do a little scouting on the way.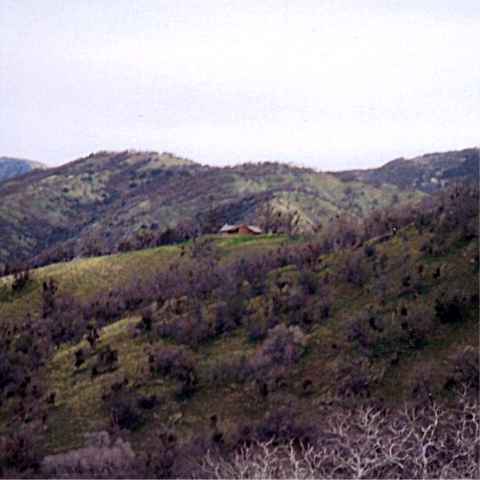 Larry and Fred headed out in the northerly direction; Ron, Tod and I headed south, back down the road we came in on. We were in new Ford crew cabs. We turned off the mainline and headed up into the steep oak covered hills. Narrow rough old ranching, logging and fire roads made for some good spots to glass from. The temps were cool being 4000 or so feet in elevation, as the sun was low on the horizon. Through several gates we worked our way up a ridge and dropped over into the next canyon. It was a 4-wheel drive show. We hadn't spotted any Hogs, but spotted Elk, Golden Eagles, Deer and ground Squirrels by the hundreds as the sun sank behind the western ridge. As we turned around and headed back up there they were. A group of about 15+ above us through the brush and oaks. They had us made and were moving out side hill. No shot opportunity this time.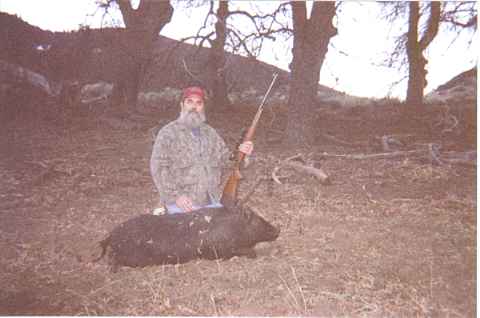 As it got dark we continued our way on back like we came. Darrell had Tri-Tip on the B-B-Q when we got back in to the camp. No sign of Larry and Fred. After getting a little more settled in and settling back with a cold one the phone rang. It was Larry saying they would be awhile. Fred had connected on a nice one just before dark. After a bit they came rolling in. Fred was one happy camper with a grin from ear to ear and a hunting tale to tell. His borrowed '06 did the job with one well-placed shot. First Pig down, a medium size Sow. Fred also sighted Deer, Squirrel, Turkey and a Bobcat. After skinning duties and a great dinner we sat around having a few more Brews and telling hunting tales and reliving the evening hunt.